Annual AMF Leadership Forum
---
Started in 2010 by Hal Johnson and Roger Smith, the AMF Leadership Forum is a signature event which brings together leaders from industry and mid-sized organizations dedicated to antique and vintage motorcycles. These annual forums, typically three hours in length, feature two to three speakers who give presentations on topics acutely related to the industry. Remaining time is used for speakers to take questions from attendees and to have an open dialogue about issues facing the vintage and antique motorcycle community. In summary, it is designed to improve communication and find solutions among its participating organizations.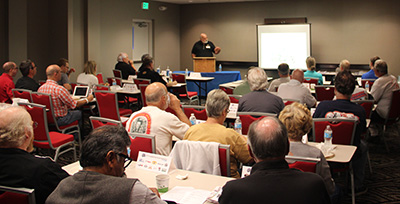 Since 2010, the Leadership Forum has become an annual occurance that is recognized by the Foundation and its participants as a highly beneficial event. This is indicated by its growing attendance and its increasingly sophisticated topics of discussion. The Leadership Forum is scheduled to coincide with major vintage and antique events such the AMA's Vintage Motorcycle Days at Mid-Ohio and the Barber Vintage Festival just outside of Birmingham, Alabama.
Participating motorcycle organizations have included: Antique Motorcycle Club of America, the American Historic Racing Motorcycle Association, the Vintage Japanese Motorcycle Club, the Hodaka Owners Club, the International CBX Owners Association, the Penton Owners Group, the Spanish Motorcycle Owners Group, Vintage Ducati, ACE Cafe Orlando, and Riding Through History.
If you are a leader or officer of a small to medium-sized vintage or antique motorcycle organization and would like to know more about the event, please contact AMF Secretary Tracey Powell at secretary@amf.foundation.
The 2014 Leadership Forum took place in Leeds, Alabama on the eve of the 10th annual Barber Vintage Festival. If you are interested in sponsoring this event in 2015, please contact AMF President, Jon Radermacher at pres@amf.foundation.
The leadership forum committee would like to thank its 2014 sponsors:
We need your support!
---
Your donation will help to sustain our efforts through exhibits, special projects and events that create awareness, understanding and an appreciation for antique motorcycles of all makes and models.
Support the mission of the Foundation today!
---
People who live it
---
Want to know more about the fascinating people who keep antique motorcycling alive and well?
Check out the AMF's profiles of people whose day to day lives are antique motorcycling.
---